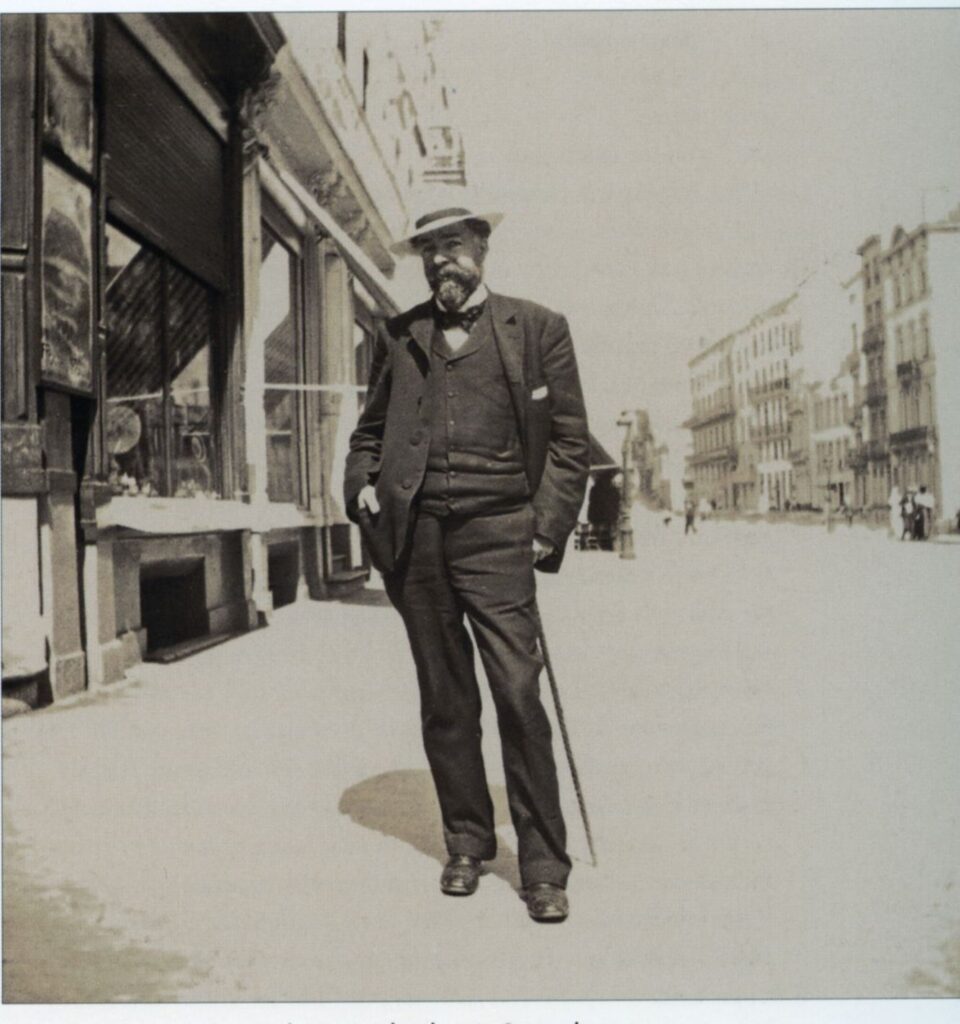 Xavier Tricot, author of the catalogue raisonné on James Ensor, draws this anonymous text about the artist to our attention. Written 114 years ago, it's a fascinating read…
Source: Anon., « Un Ostendais par semaine », L'Écho d'Ostende, Supplément Illustré du Dimanche 26 janvier 1908, p. 1.
L'Ostendais de cette semaine ne nous appartient pas exclusivement : Il est aussi à toute la Belgique comme au monde entier de l'art, pour qui Ostende créa ce maître désormais incontesté, de la peinture contemporaine.… S'il avait bien voulu faire ici lui-même son portrait! Au lieu de cela, il nous fait nous contenter de braquer un simple kodac [sic] pour offrir un instantané à tous ceux de partout qui l'admirent.L'air d'un beau reitre [sic] de jadis qui aurait eu le caprice de remplacer par les plus modernes esthétismes, l'étude farouche de la Bible. Volontiers solitaire, mystérieux, extrêmement taciturne ; des habitudes d'une grande régularité. A des heures et en des endroits minutieusement déterminés, il absorbe des breuvages savants. Cela se fait soit au Cercle Cœcilia, soit au Falstaff ; et selon les quantités qu'il s'est imposées par jour. L'absorption de ces consommations exige des rites dont le premier est le silence. Il instruit le garçon par les mots strictement nécessaires et avec le minimum de souffle requis pour se faire entendre d'un serviteur dês [sic] longtemps prévenu. Ensor est extrêmement poli.
C'est ainsi qu'il appelle tout le monde Mr, De [sic] même les solitaires de Port Royal avaient beau habiter ensemble depuis vingt et trente ans, ils n'en continuaient pas moins de s'appeler ainsi. Le maître les surpasse, car il lui arrive d'appeler, M. de charmantes femmes, lesquelles furent naturellement ravies de cette distinction géniale. Il garde dans sa correction, un peu de l'atavisme anglais de sa race. Très fermé, d'aspect doux et timide, s'il parle rarement, sa parole n'en est que plus incisive et terrible à l'occasion.L'imbécile maladroitement flagorneur l'apprend toujours à ses dépens. Sa langue si j'ose dire, garde « une dent », non, toute une machoire [sic], qui enlève le morceau. Le malheureux qu'elle saisit n'existera plus après la morsure qui le marquera jusqu'à la mort.… Et dans l'immortel souvenir ! Se rappeler en preuve le mot sur un peintre très notoire, chantre soi-disant belge, des femmes du second Empire. Mais tous les succès et tous les plaisirs, même celui d'être pareil au bretteur dont une « pointe » peut tuer, ne sauraient faire qu'il n'aime avant tout la solitude, et ne trouve moyen de rester seul, vraiment, toujours. Il s'isole au café, dans la foule, dans une fête. Son Mac-farlane lui est une solitude, ce Macfarlane, uniforme personnel dont les plus grandes chaleurs ne peuvent le séparer qu'un instant.
Et par là même qu'il trouve moyen d'être solitaire toujours, il ne craint pas d'accueillir les visiteurs dans son atelier, où d'un mot, il caractérise chaque œuvre, résume son histoire en une anecdote. Il aimera vous dire paisiblement, sans une colère, mais avec un dédain féroce et placide comment naguère on ne lui offrait pas cent sous de ses meilleures œuvres, alors que maintenant on se les dispute, à cinq, dix, quinze mille francs.Sa seule vengeance sera de faire observer qu'en peinture comme en finance et en tout, il importe d'abord de faire de bons placements. Alors, une lueur fugace s'allume dans les très grands yeux que les longues paupières abritent d'habitude comme pour emmagasiner les trésors de lumière qu'il répand sur ses toiles.
Cet œil et la lumière de cet œil ! … Elle a éclairé un peu toute la peinture d'aujourd'hui.
Comment Ensor fut vraiment l'initiateur de la lumière dans la grande marche de la peinture vers elle, c'est ce qui apparaît dans les études que, déjà, les meilleurs « essayistes » consacrèrent à Ensor. Il y en a de Vittorio Pica, d'Edmond Picard, d'Eugène Demolder, de Camille Mauclair, de Pol de Mont, d'Octave Maus, de Gustave Uzanne, de Gabriel Monod, de Maurice des Ombiaux. Une étude du grand Emile Verhaeren va paraître chez le somptueux éditeur van [sic] Oest. Cette déjà considérable bibliographie prouve (ce qui n'est heureusement plus à prouver) que le grand initiateur moderne de la lumière fut James Ensor.
Ensor naît à Ostende le 13 avril 1860 (le 13 porte bonheur, quoiqu'on en dise…)
Il débute au Cercle « La Chrysalide » de Bruxelles, y exposant La Coloriste, en 1881 ; et, l'année suivante, le Salon Bourgeois, deux œuvres déjà remarquables par la splendeur de leur coloris baigné d'atmosphère. En 1882, c'est au Cercle l'Essor qu'il expose L'Après dîner[sic] à Ostende et un portrait. En 1884 au Cercle d'avant-garde, les XX parait [sic] ce «Lampiste », honneur de notre musée moderne. Après vient la célèbre «Mangeuse d'huîtres ». Le Pouilleux (musée d'Ostende). Ensuite, c'est aux expositions de la « Libre Esthétique » (Les XX transformés) les Masques, les Nature-Mortes, etc., etc. Dês [sic] ses premiers débuts, le peintre ostendais avait compris l'importance de la lumière et ses recherches influencèrent nombre de jeunes artistes. Il fut le premier à peindre vraiment clair ; toutes ses œuvres témoignent d'un grand éclat de tonalité et d'une extrême sensibilité de vision. Dès 1880, certaines œuvres dépassent en éclat et en lumière celles de Manet et de Renoir ; il fut à la tête des novateurs et bien avant Van Gogh et Gauguin, il pressent les découvertes de la facture moderne.
Citons parmi ses tableaux plus spécialement clairs : Le Choux[sic], 1880. Le Salon Bourgeois, 1881. La rue de Flandre, 1881. La mangeuse d'huîtres, 1882. Les Pivoines, 1883. Les Masques devant la mort, 1088 [sic]. Adam et Eve chassés du paradis terrestre, 1887. L'énorme Entrée du Christ à Bruxelles, 1888.Les premières planches du grand aquafortiste qu'est aussi notre grand peintre sont de 1886. Citons la célèbre Cathédrale, La rue[sic] de Mariakerke, Les Barques échouées, Le pont rustique, Les peupliers, le Portrait d'Henri [sic] Rousseau.
On sait la verve satirique du maître qui l'a déjà exercée dans de nombreuses et attachantes compositions où la verve d'un Rowlandson se marie à la "drôlerie" d'un Breughel ou d'un Bosch. Nous avons dit que son « Lampiste » est au Musée de Bruxelles. Celui d'Anvers garde une « Nature Morte » ; celui de Liège une Nature Morte et une vue de Bruxelles. Des Eaux fortes [sic] de lui se trouvent aux galeries de Bruxelles, Dresde, Vienne, Venise, Zurich, Milan, Barcelone. Ostende, outre « Le Pouilleux » garde le « Meuble hanté » et une Nature Morte. Parmi les galeries privées qui réservent une belle place aux œuvres d'Ensor citons celles de la Princesse Elisabeth de Belgique, de S.M. la Reine Marguerite d'Italie etc. etc. Notons comme details [sic] négligeables, que le grand artiste ne voulut éviter d'être chevalier de l'ordre de Léopold et de recevoir le grand prix à l'exposition de Milan 1906, et la première médaille à l'exposition universelle de Liège, 1905. Bien plus intéressant serait d'essayer maintenant une synthèse psychique de cette œuvre déjà énorme, de cette vie déjà complète. Quelle âme étrange dû s'approfondir et rayonner en lui pour des œuvres aussi radieuses et aussi tragiques ? Cette âme nous donna un poète qui vaut le peintre. Les rares écrits d'Ensor (Les Eçus [sic] etc.) montrent une science de la musique des mots par laquelle il s'égale aux plus imprévus « joueurs de verbe » Tristan Corbière ou Rimbaud. Le même don se développa et nous donna le musicien dont l'orchestre de Rinskopf a joué les valses. Sa musique simple et vivante avec acuité, parait [sic] le mouvement même dont s'animent les personnages fantomatiques de ses tableaux. Ensor est un de ces artistes complets comme les maîtres de la grande Renaissance en qui l'unité d'un art souverain, d'une génialité totale ne faisait que se compléter en se diversifiant. Ainsi l'âme unique du monde rayonne innombrable dans la vie.